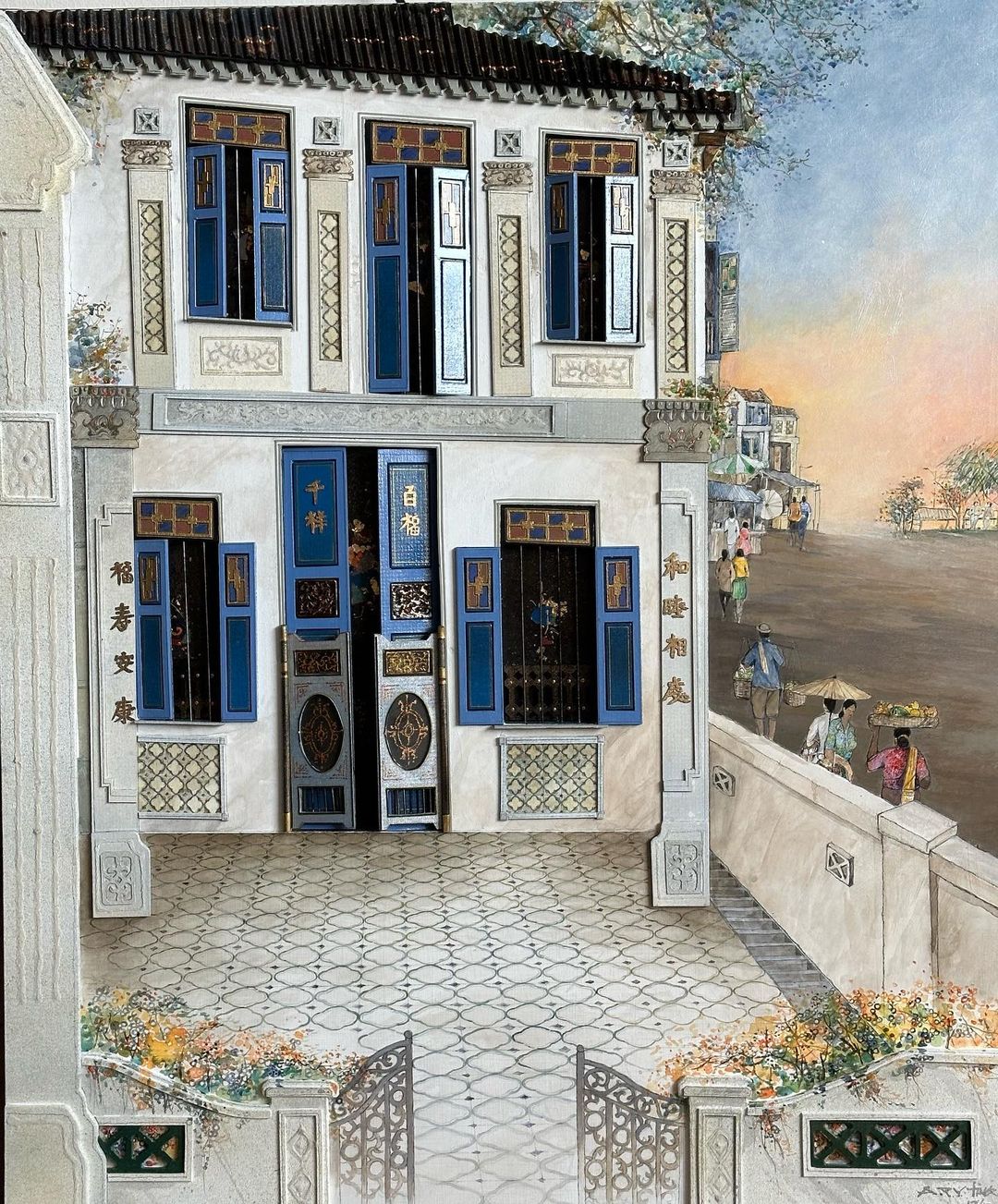 Capturing the Soul of Singapore: Arthur P. Y. Ting's Three-Dimensional Shophouse Paintings Unveil Singapore's Living History
STEP INTO THE VIVID STREETSCAPES OF SINGAPORE through the mesmerizing artworks of Arthur P. Y. Ting. In this blog post, we explore the profound connection between the artist and the shophouses of Singapore.
Discover how Arthur's three-dimensional paintings breathe life into these architectural marvels, capturing the soul of Singapore's urban landscape.
1. A Sojourn Through Time: Discovering the Heartbeat of Singapore's Past:
Join us on a whimsical journey that transcends the confines of history books, as Arthur's Mini Windows unravels the secrets and charms of Singapore's treasured shophouses. Marvel at the artist's deep appreciation for the historical significance of these architectural gems, inviting you to relish in the nostalgia of bygone eras. His meticulous brushwork and intricate detailing breathe life into each stroke, capturing the essence of a city rich in history and heritage.
YUAN Mini Windows by Arthur P.Y. Ting - Duxton Road
Details of street life bustling amongst shophouses are drawn by the artist, bringing life to the paintings.
2. An Artistic Alchemy: The Transformative Magic Behind Three-Dimensional Paintings:
Indulge in the exquisite artistry that lies within Arthur's three-dimensional masterpieces. As you delve deeper, you'll uncover the meticulous process behind these captivating works of art. Ting's skillful layering and the interplay of light and shadow create a symphony of depth, enchanting your senses and transporting you into the very heart of his vivid creations. Prepare to witness the world of shophouses come alive in ways you've never imagined.
Arthur painting the architectural details of the tiles on the five foot ways.
The completed artwork based on "Craig Rd", with custom commission requests.
Arthur(left) with the specially customised artwork based on "Craig Road" Limited Edition Series with blue windows specially requested by our clients.
3. Guardians of Cultural Legacy: Preserving Singapore's Architectural Heritage Through Art
Embark on a heartwarming exploration of the cultural significance of shophouses and Arthur's profound role in their preservation. Celebrate these architectural icons as custodians of Singapore's history and cultural fabric. Arthur's art serves as a testament to the enduring spirit of these cherished structures, capturing not only their physical presence but also the emotions and memories they evoke. Through his art, Arthur invites us to cherish and protect the legacies that shape our urban landscape.
These artworks themselves also become precious meaningful legacies to pass on to the next generation, especially with customised details where your own stories can be woven into the artworks.
YUAN Mini Windows Series
Our client requested for Arthur to include their family and pet dog into the street scene. On the right shows Arthur with happy client and family and pet dog.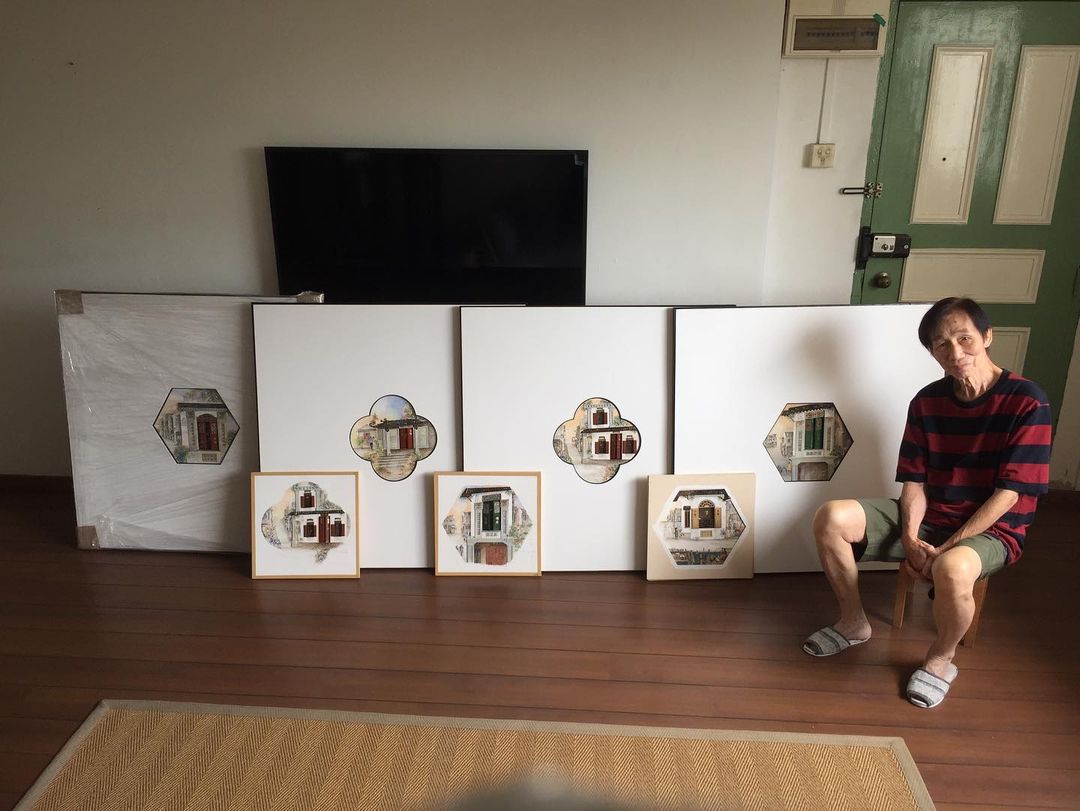 Arthur at his home studio with the YUAN Mini Windows Series
Arthur with our clients and their artworks proudly displayed in their homes.
Arthur P Y Ting's transcendent three-dimensional shophouse paintings serve as portals to a bygone era, inviting us to wander through the corridors of time. Through his exquisite artistry, tinged with nostalgia and an unwavering appreciation for heritage, Arthur unveils the living history nestled within Singapore's shophouses. Join us on this enchanting journey as we celebrate the profound connection between art, architecture, and the stories that shape us. Embrace the warmth and sophistication of Ting's artistry, and let it kindle your own love affair with the soulful narratives that reside within the heart of Singapore.
ART
YUAN Mini Windows by Arthur P.Y. Ting - Pagoda Street
The Singapore Mini Window series is the signature body of art by local renowned artist Arthur P.Y. Ting. His interpretations of Singapore's fast disappearing shophouse windows began in the 1990s, and Neil Road, Chinatown, and Emerald Hill, some of his most well-known works, are now reimagined in intricate 3-dimensional detail.

YUAN Mini Windows is a specially commissioned limited edition series made exclusively for SCENE SHANG.

Iconic Singaporean shophouse windows sit elegantly framed within the hexagon and plum-shapes of the YUAN Collection. In a time where fast is better and progress rules our lives, these portals from the past urge you to pause for a closer look, and ponder the exquisite details of their art. And foster a deeper appreciation for the preservation of our history.
VIEW