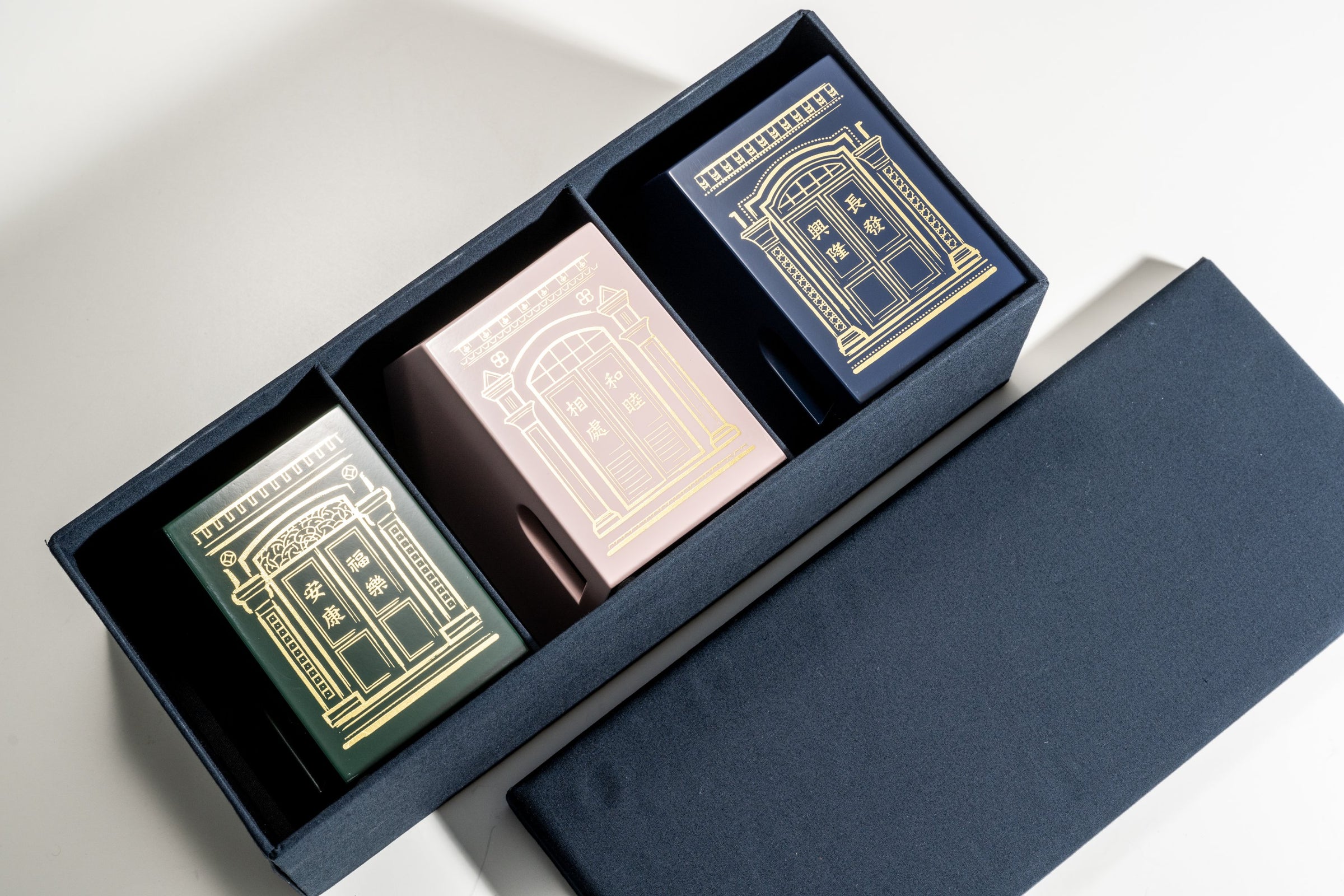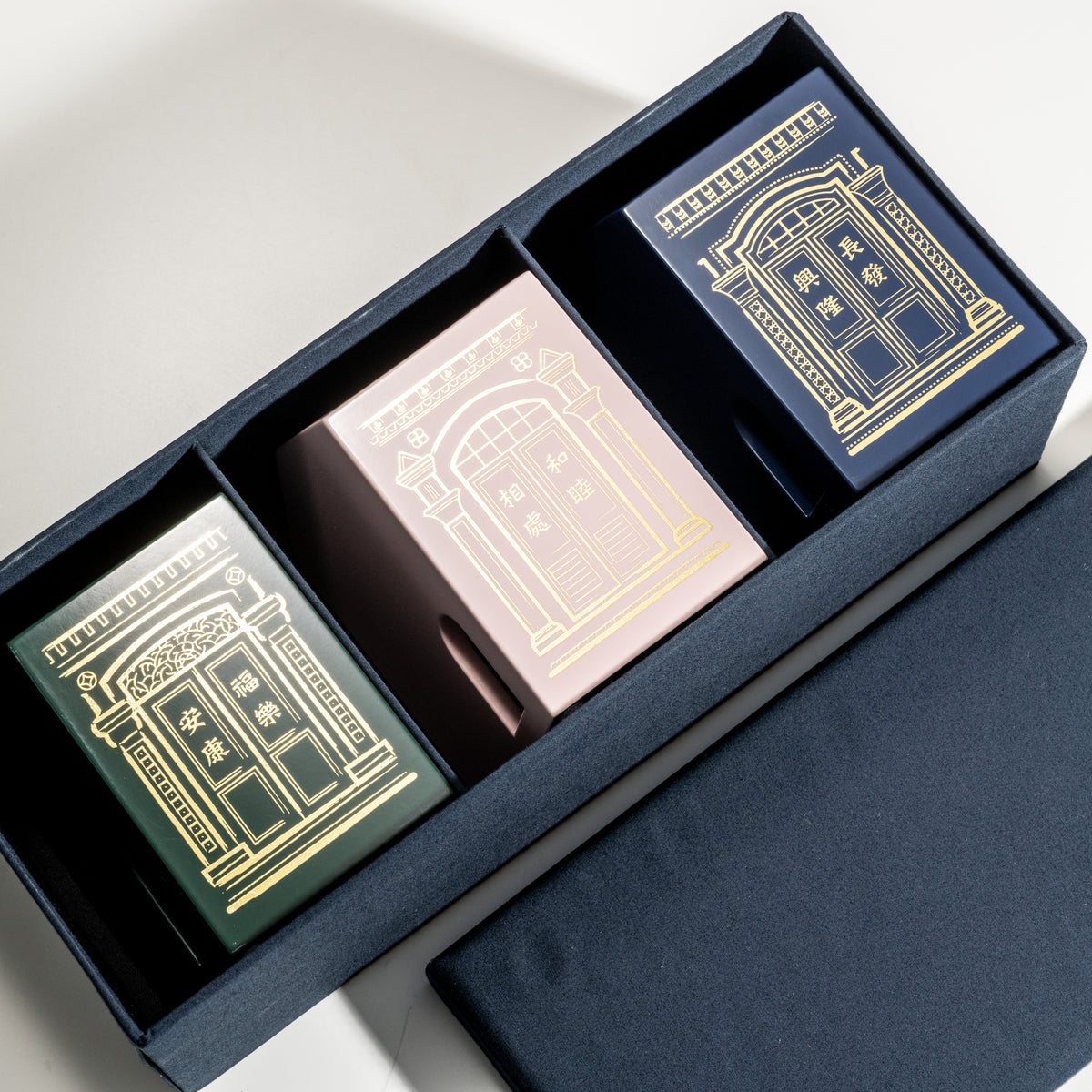 Shophouse Blessings Series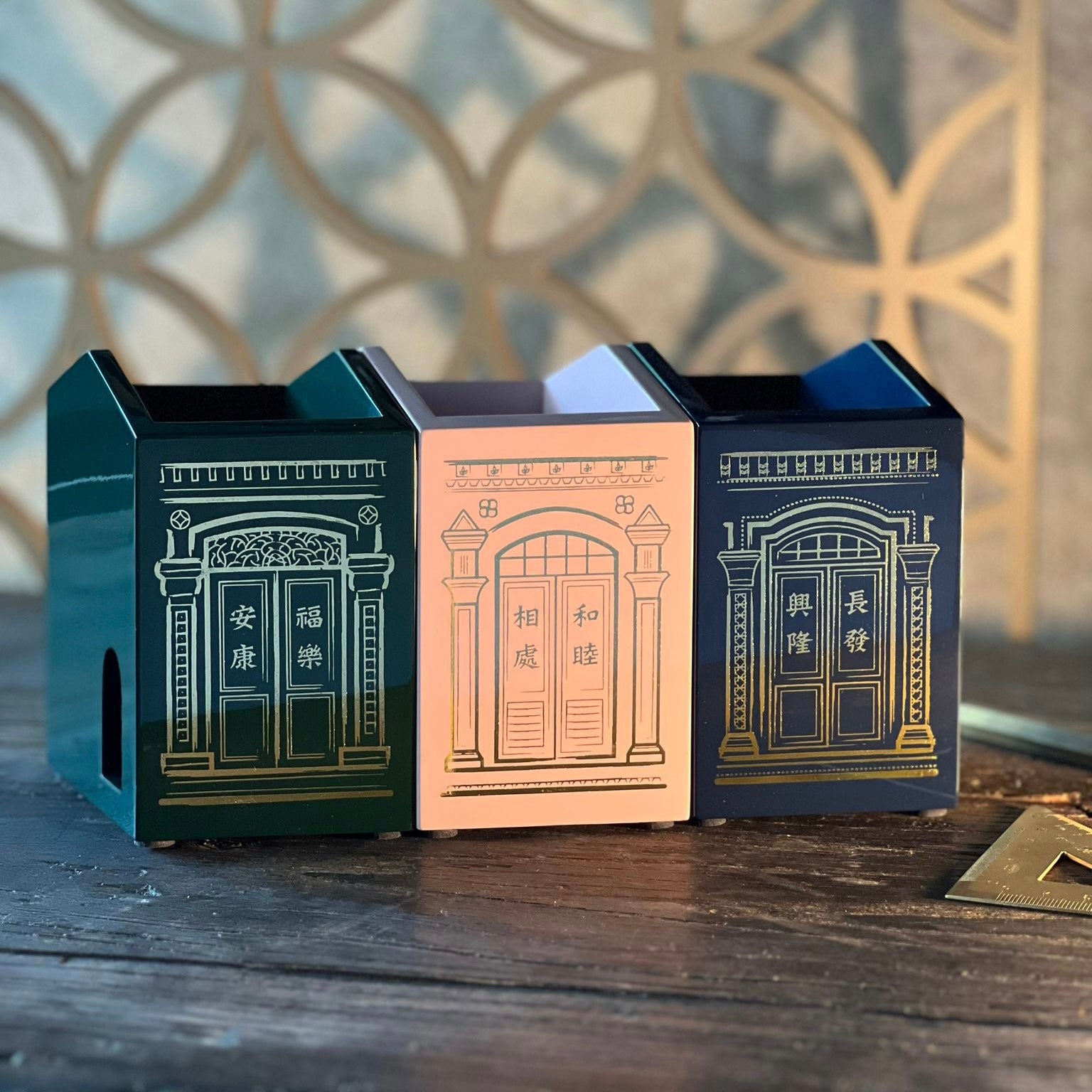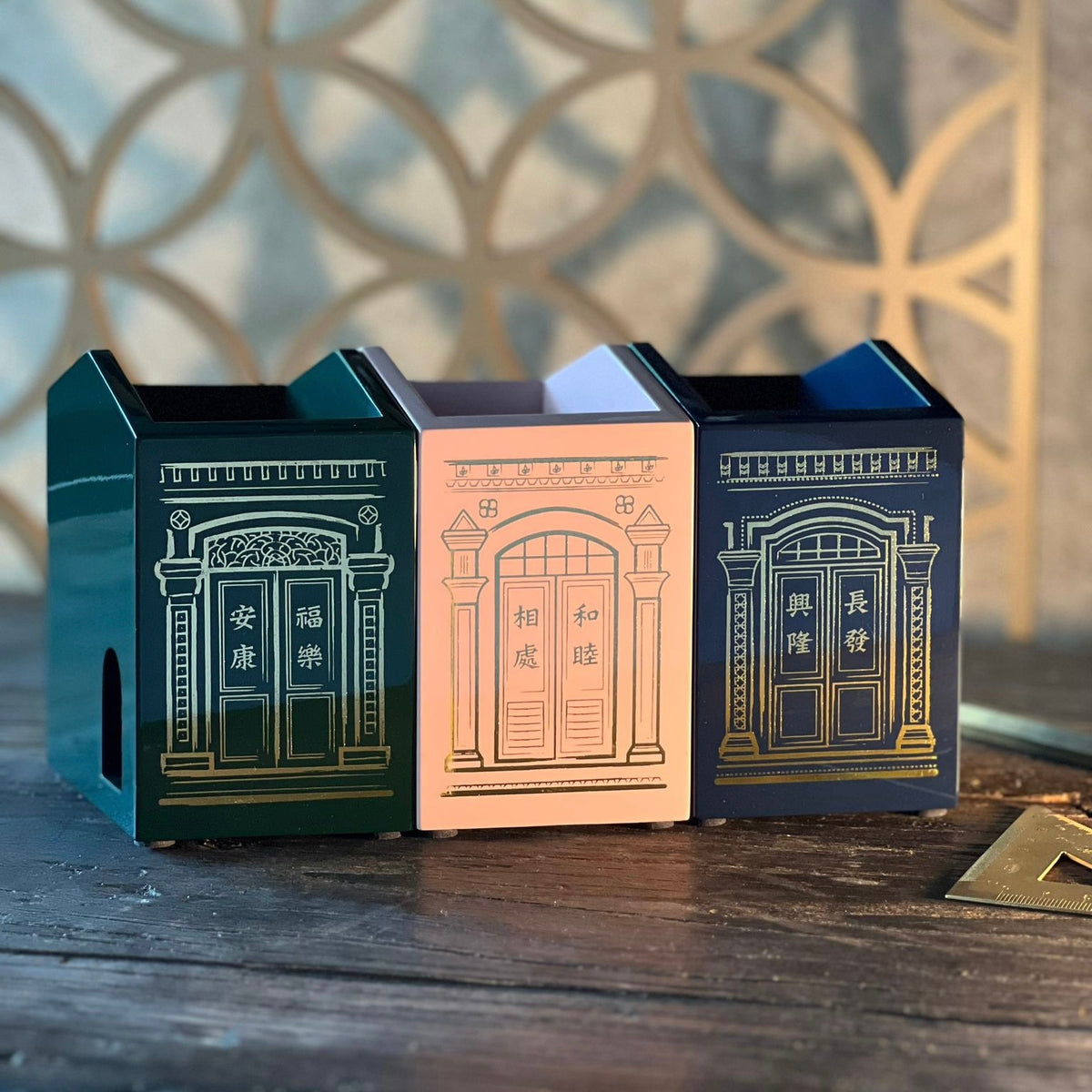 Inspired by Singapore's rich history & heritage found in shophouses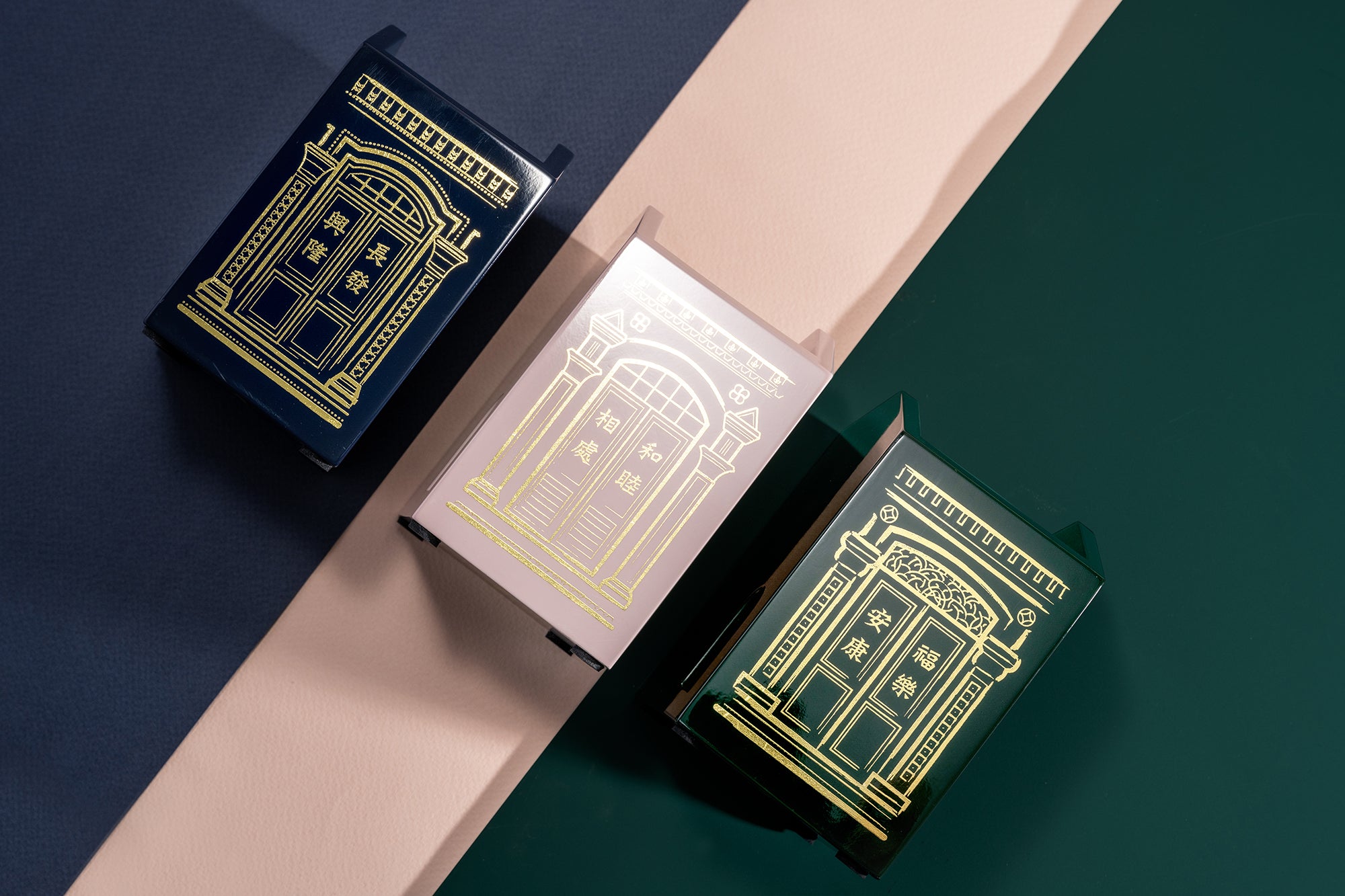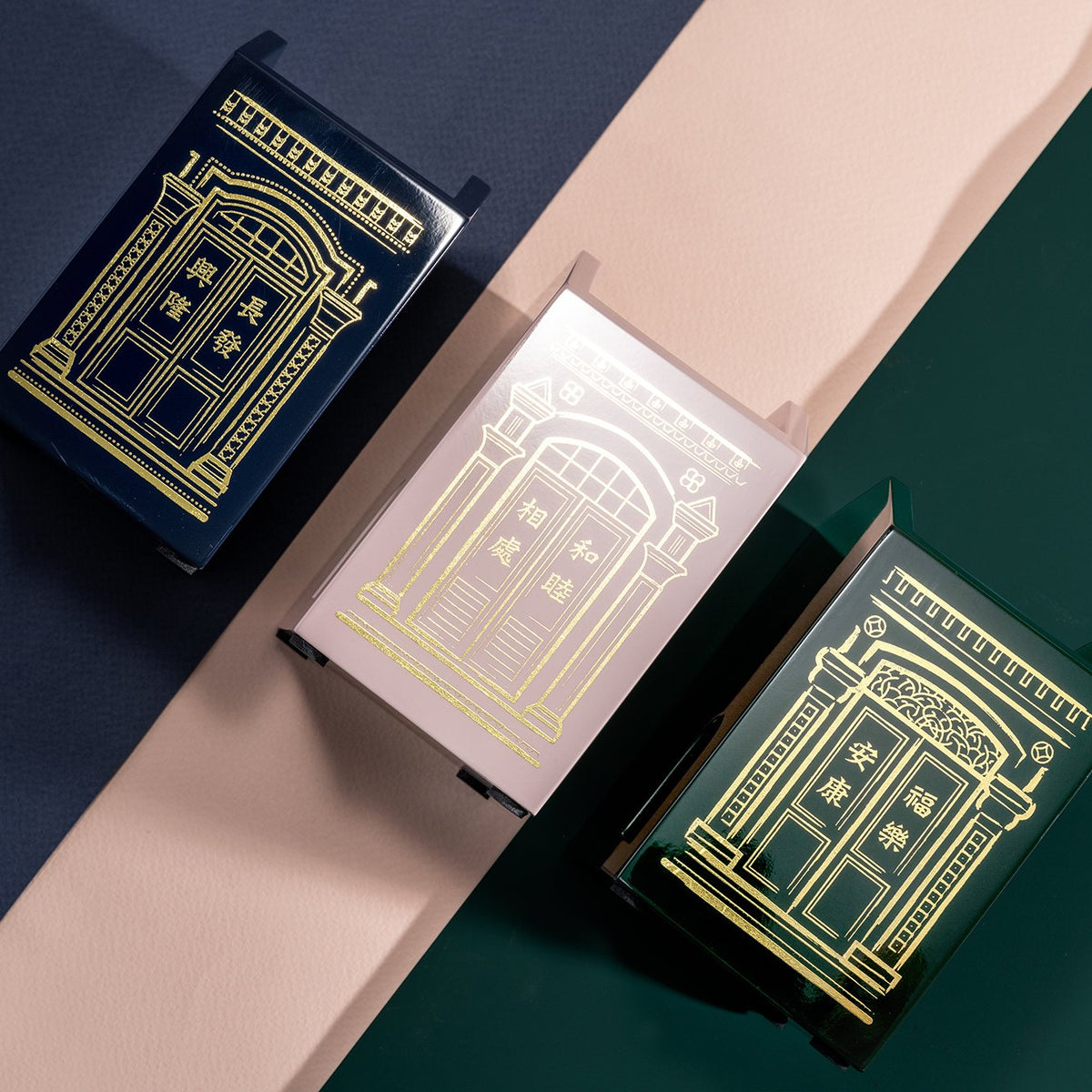 Featuring the key design elements of a Singaporean shophouse
Shophouses were first constructed in the 1800s, when Sir Thomas Stamford Raffles drew the initial Town Plan that subdivided land into smaller, more regular lots — a vision which evolved in time, celebrating and fusing both the local ethnic cultures and European influences.
There are a few key elements that reflect the uniqueness of shophouses built for the tropical weather in Southeast Asia.
KEY DESIGN ELEMENT
The side elevation
Each shophouse has a side elevation which features a pitched roof. When nestled side-by-side to each other, the shophouses formed a continuous covered five-foot way (that were usually paved with brightly coloured terracotta or Victorian-style tiles) which created a covered walkway to give passage to the community in all weathers.
In the Series, we have included the shape of the pitched roof as the opening of the desk organisers, as well as the little detail of the arch of the five-foot way.
KEY DESIGN ELEMENT
The facade
We have included the characters in Chinese that are used to wish blessings upon the receiver, which can also be found on windows and doors of Chinese-styled shophouses in Singapore.
These are the wishes which we would like to serve as reminders daily:

福乐安康 - Bliss, Joy, Peace, Health

和睦相处 - To Live in Harmony

长发兴隆 - Always Thriving & Prosperous
KEY DESIGN ELEMENT
The slant
Another little known fact is that in the plans of shophouses, they are rarely built to be a rectangular-shaped structure, but rather, slanted at an angle. This was done to cleverly take advantage of the maximum area when aligning the front facades along roads, as well as the back for the back lanes.
The desk organisers in the Shophouse Blessings Series have been specially constructed to reflect this slant.
When nestled in a row, the desk organisers form a whimsical row of miniature shophouses that serves as a reminder that there are some things that are built to withstand the test of time, and the blessings to offer respite in the midst of any hard weathers that may come your way in a regular work day.
Qua x SCENE SHANG
"The soul of an age-old craft that requires time and patience can be felt from the quality lacquerware by Qua. With design inspired by our rich Singaporean heritage and history, SCENE SHANG creates an object of art that brings together beauty and soul, wishing blessings upon the receiver."
— Jessica Wong, Founder, SCENE SHANG

"Having grown up in a shophouse in Geylang, this collection is one that is close to my heart, bringing back many childhood memories. Qua is very excited to work with SCENE SHANG, to bring to light uniquely Singaporean architecture."
— Meng Yee, Founder, Qua