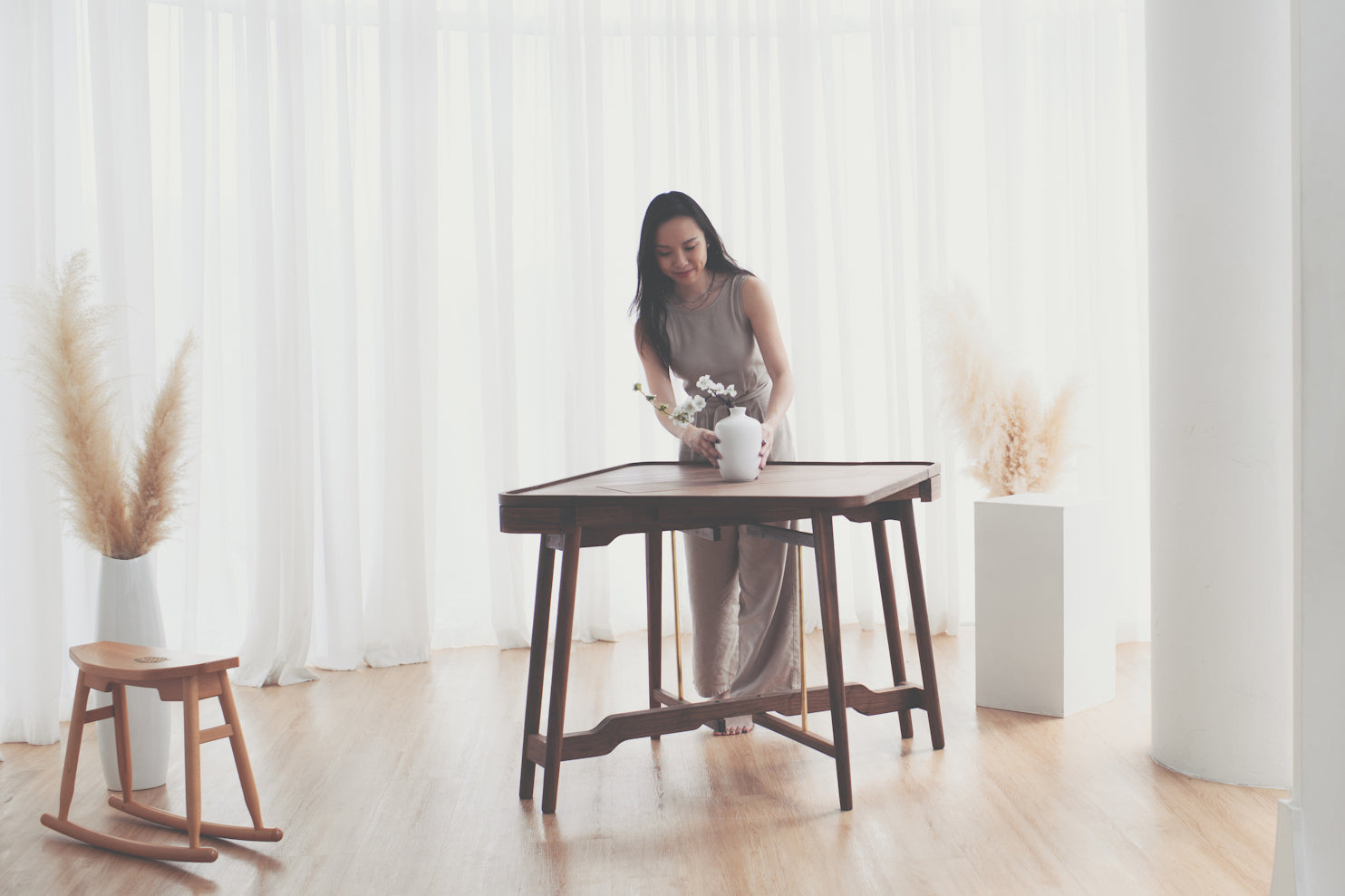 Behind a Modern Day Masterpiece — The Story behind SCENE SHANG's XUAN Table — Design, Craft & Time
Written by Jessica Wong, Designer & Founder, Updated 2023
A QUESTION THAT PEOPLE commonly ask me as a designer is, what's the secret to a good design. Today, after almost nine years after the founding of SCENE SHANG, my answer is time.
Looking back, it has almost been five years since the first conceptual designs of the XUAN Table were drawn, and since then, the XUAN Table has gone through a few iterations and is now one of our best loved designs at SCENE SHANG.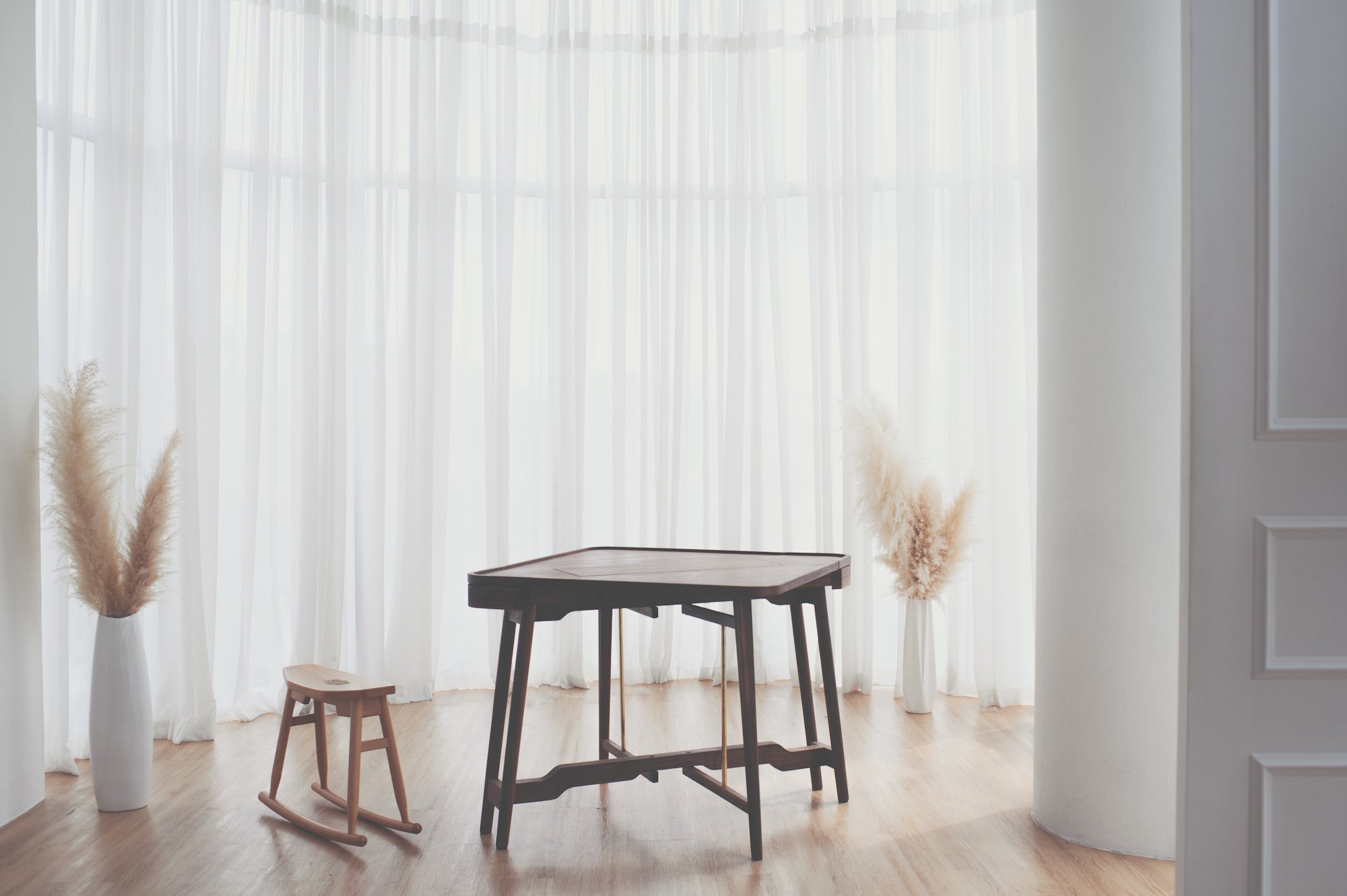 XUAN TABLE
Inspired by history, the XUAN Table is an award-winning furniture design that transforms from a console to a triangular table to a dining table or mahjong table.
2018
The idea to design the XUAN Table was brewing for sometime in my head - I wanted to design something that wasn't already available, something that could somehow weave in cultural stories and also be presented in a new, contemporary way - pretty much the ethos of SCENE SHANG. I didn't want to design something that was just aesthetically pleasing, I wanted to come up with a design that would invoke an emotional response from people, or at least, bring some delight and a smile to people's faces.
A three-sided mahjong table from the 60s/70s in an old clubhouse that I'd seen in 2018.
I spent time working on the drawings, modelling out the movements of the table, solving mathematically the angles, the slants, the diameters, so that the design could change from a console, a triangular table (I was very intrigued by a three-sided mahjong table that I had seen in an old clubhouse in Singapore), into a square table, and with other hidden features such as drawers and a storage compartment. There were so many things to solve, how should I tuck these things in, mathematically, aesthetically? 
I spent quiet nights working on the model and the drawings and when I was finally done, I was excited, I couldn't wait to send them to K, a very skilled maker we had met in 2016, I knew he would have the expertise to try and make the design. Sure enough, I sent him the drawings on a weekday and it was on a Sunday that he called me to ask me some questions. He said, "It's a Sunday and I'm having a beer at the office. I'm looking at your drawings. It's interesting." For a designer, you're happy when the maker thinks that way, because then he has the motivation to do the sample prototype well. 
"It's a Sunday and I'm having a beer at the office. I'm looking at your drawings. It's interesting."- K
We start producing a sample. It is beautiful but there are some production issues with it that K can't seem to solve. He's busy and this needs time out of the usual production schedule he has. A few months pass, a few trips up to Perak where he's based, but the sample is still a sample, we see a lot of potential, our customers enquire about it, but we can't sell it yet. 
Frustrated, I look for another maker that I've known for sometime - also another K, Ah Keong. You might remember him when we worked together on making the Brass Chinese Chess Set.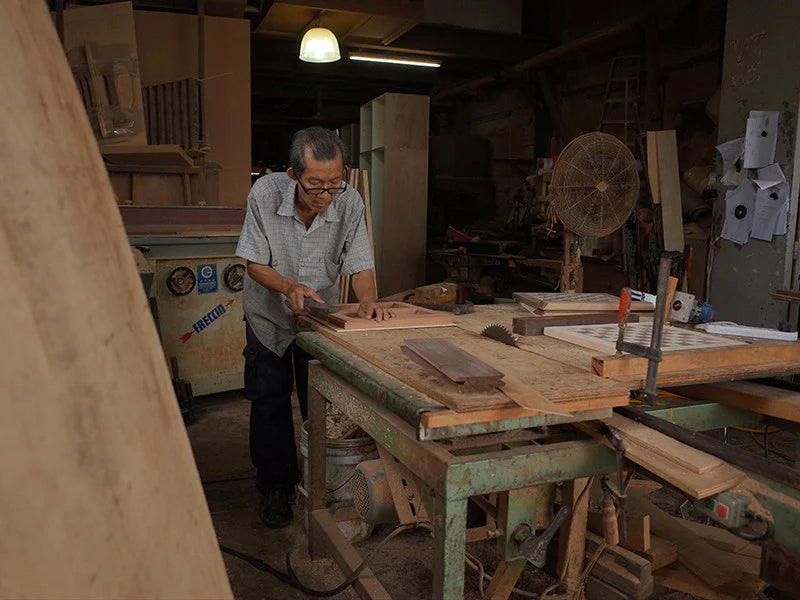 Ah Keong at his workshop working on the Brass Chinese Chess Set chess board back in 2017.
The late Ah Keong was really a Singaporean master craftsman then in his late sixties who had a lot of expertise and ingenuity. When I first got to know him, it was very hard to convince him to take on any of my work, he was busy and his prices were quite high, though it was commensurate with the quality of his work. 
I sent him the drawings, it piqued his interest enough, he said ok, and then we started working on a sample. He worked fast, and I'd visit his workshop where he would sketch out the details to suggest improvements such as ensuring the stability of the table, and we would discuss the best ways to balance the aesthetics and functionality with the production.
Ah Keong's sketches. He had studied the drawings and had questions on the details.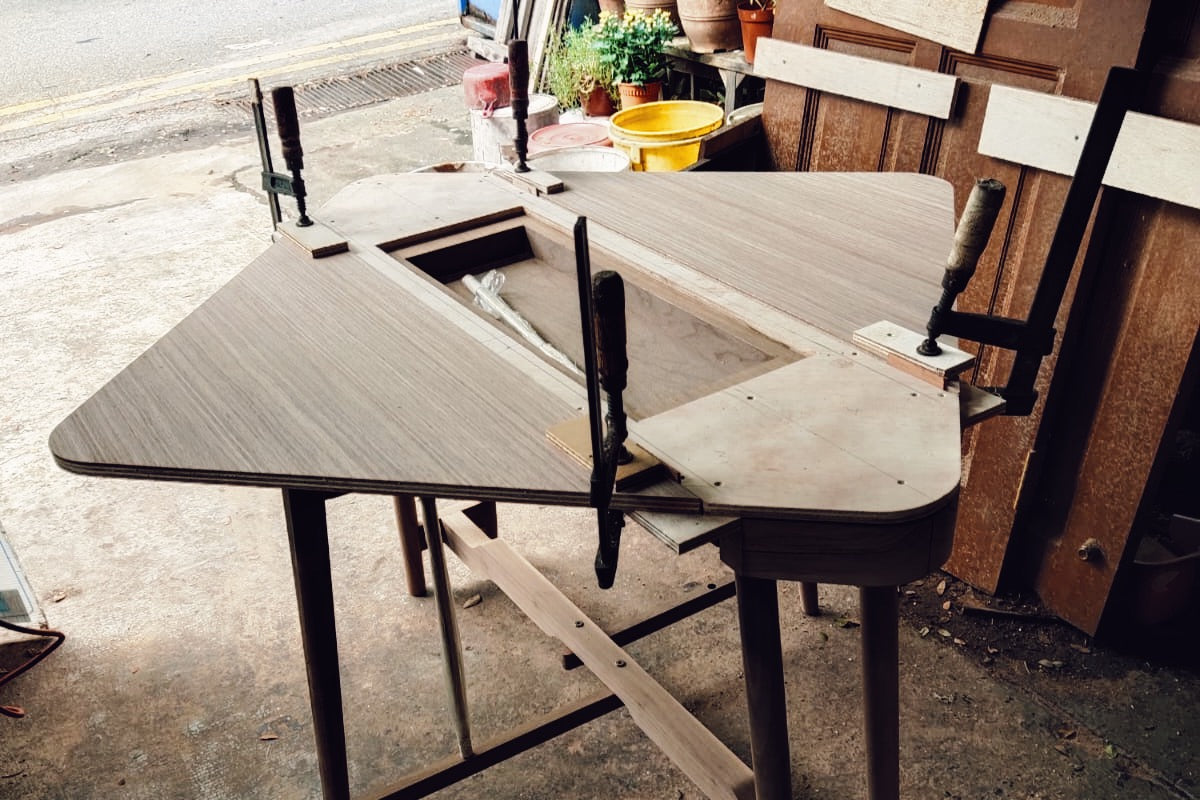 Prototyping at Ah Keong's workshop
2019
Finally - the XUAN Table was ready to be sold to our first customer. This first customer had seen the first earlier sample and had placed a deposit for the table. He came over to see the first completed piece at our then Raffles Hotel store and was happy with it. 
Production for the XUAN Table then started with Ah Keong, piece by piece as orders started to trickle in. Along the way, the XUAN Table won the Silver Winner at Singapore Creator Awards in 2019. Then came Co-vid, which led to shortage of supply of materials, stopping production completely at times due to the lockdowns etc. 
Getting the Silver Winner at the Singapore Creator Awards in 2019. 
Visiting and checking in on the production at Ah Keong's workshop in 2022.
Along the way, Ah Keong also became more and more frail, we didn't speak much about personal things, but I knew he was battling an illness. Even then he was always still jovial, with a seasoned toughness, earned through having experienced the vagaries of life. I had immense respect for him. One day, I was visiting the workshop and he proudly said in Mandarin, "Your table, so hard to do. The neighbour passed by and saw and enquired about it." 
"Your table, so hard to do. The neighbour passed by and saw and enquired about it."- Ah Keong spoke with pride.
It was true, the table was challenging to make, it would take a skilled master craftsman to make it and I was really honoured to have Ah Keong work through the design with me. At the same time, I knew that I needed to start looking for another maker and craftsperson to be able to continue to produce the XUAN Table.
2022
Through some kind of serendipity, I met with another maker based in Singapore. I'd heard of their work and when we had the chance to meet at a furniture event, I went up to speak with them. We spoke, and realised we could really try and work together on this. They understood the design and the quality we were looking for and were keen to see if they could successfully make the XUAN Table. We started to work on getting samples done, improving things along the way, such as the finishing — they suggested ways to improve the product with eco-friendly finishes using VOC-free hardwax oil which they had an expertise with. A few months of back and forth passed — patience, checking and finally we were all happy with the outcome and an even better XUAN Table.
Checking on the final assembly of the XUAN Table
Working with The Table Guy in their workshop to sort out some details
The finishes are an improvement and the natural walnut grain really shines through with the eco-friendly VOC-free hardwax oil.
2023
Working with The Table Guy, we now have a new version of the XUAN Table, with components made in Vietnam by skilled craftsmen, and with final assembly in Singapore.
To our customers who've been through this journey with us, thank you. We look forward to bringing you more masterpieces.
AWARD-WINNING
XUAN Table
An extraordinary table - revolving around the harmony of age-old traditions and contemporary purpose, centered on precious kinship and love, delighting with a hidden surprise.
SHOP
In Memory of Chee Tit Sheong, Ah Keong, 1950 - 2023
Thank you for the opportunity to work together, your expertise and skill is something we will always remember, with the deepest respect and gratefulness.