Choice of wood, marble (2 cm / 4 cm) and base finish available
MING Collection
Natural Stone / Marble
Applicable if top material is of marble
Natural stone and marble are soft and porous materials - special care needs to be taken to prevent stains, scratches and chips.
To protect the surface, sealer has been applied to the polished surfaces.
This sealer will be less effective over time, depending on usage. Occasionally, we recommend reapplying stone or marble sealer or polish available from hardware stores to protect the surface. Do a small patch test in an inconspicuous area before applying such products.
For regular cleaning, use a soft cloth with warm warm water to wipe the surfaces gently.
Do not use any other cleaners or soaps, especially those that may be abrasive or acidic as these may cause damage and discolouration to not only the surface, but to the stone or marble core should it be absorbed.
Do not place glasses or other non porous materials directly onto the surfaces as these may cause moisture to be trapped under and get into the stone or marble core.
To prevent ring marks, do use coasters, placemats or trivets under dining ware and serve ware.
Do not place hot objects directly onto the marble surface to prevent damage.
If any spills occur, blot gently immediately to prevent stains from forming or etching into the stone or marble surface.
Wood
Applicable if top / second layer material is of wood
Place your wood furniture in places where humidity and heat levels are consistent, as changes can result in warps or cracks due to expansion and contraction.
Moisture and heat can cause damage to any finish. Always wipe up moisture promptly and dry with a soft cloth. Do not place hot items directly on the wood surface.
Over time, air and sunlight may cause changes in the colour of the wood. To reduce the change in colour, do not place your furniture in areas directly exposed to sunlight such as in front of windows.
If you are placing items on your wood furniture, occasionally rotate the items to allow a more uniform color to develop.
For regular cleaning, a soft, lint-free cloth with water and a drop of mild soap is recommended. Do not use strong cleaning products such as bleach as this may dissolve the finish. If in doubt, test the cleaning product on a small patch in an inconspicuous location before applying to the rest of the furniture.
Every six months, use lemon oil or polish available from hardware stores, to protect the finish and retain a shine.
Electroplated Stainless Steel / Powder Coated Mild Steel / Powder Coated Aluminium
Electroplated Stainless Steel (Brass, Rose Gold, Platinum Frost) and Powder Coated Mild Steel and Aluminium must not be polished using metal polishes. These can be cleaned using warm soapy water and a soft cloth.
Do not use any abrasive cleaners or cleaning materials to prevent scratches or damage to the electroplated or powder coated finishes.
In areas close to the sea or if the stainless steel or mild steel furniture is regularly subjected to water, brown discoloration can appear on the surface of your furniture. This can be removed with warm soapy water.
Powder Coated Aluminium frames are rust-free and are suitable for outdoors or areas near the sea. These furniture can be washed with water and mild soap if necessary.
Actual measurements may vary ± 2 cm. Due to the use of natural materials, variations in pattern and colour will differ. All photos shown are for illustration purposes only. For more information, please read our terms and conditions.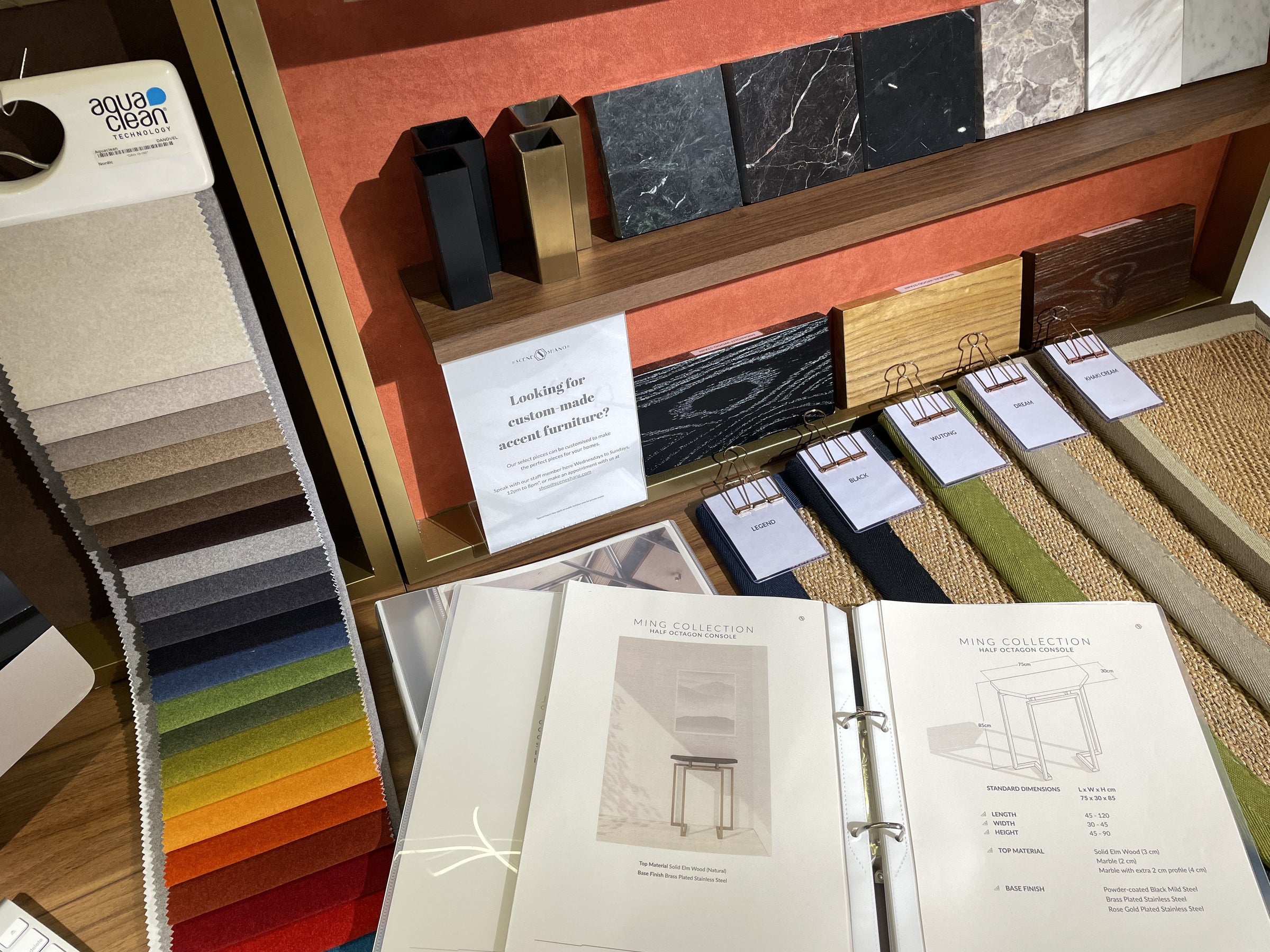 Custom, Made
Have a specific requirement in mind?
Choose from our select collections which give you the flexibility of customising dimensions, colours and materials including solid wood, natural marble and stainless steel.
ENQUIRE TODAY